Play Games for Lunch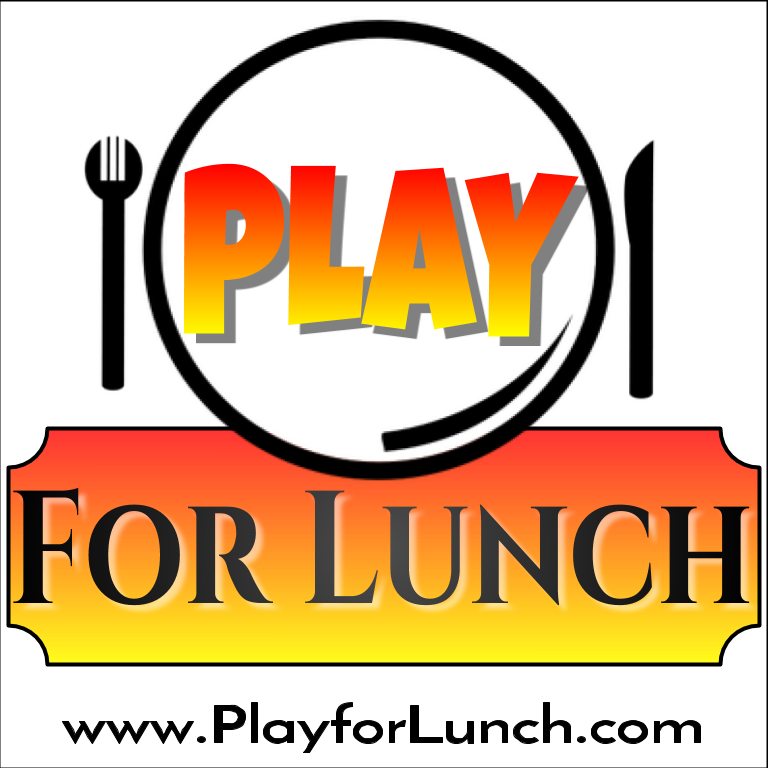 "The opposite of play is not work.  It's depression." – Dr. Stuart Brown [1]
Good evening, all.  Gordon, a.k.a. "The" Barrister here, and I want to talk about the research on the benefits of play and how this led to our Play Games for Lunch initiative (as announced in this WUWM 89.7 FM underwriting spot).
Click this link to skip all my verbosity and go directly to the Play Games for Lunch registration form.
While there has been increasing research showing the benefits of play for children [2][3], there is now some attention being paid towards the benefits of play for adults.  I opened our first Board Game Barrister® store in 2005 because I knew intuitively that play was important for maintaining flexible thinking and strengthening interpersonal connections through time-efficient shared experiences.  The scientific research specific to adults is small but growing – as someone who values evidence, I find this exciting.
"At work, play has been found to speed up learning, enhance productivity and increase job satisfaction; and at home, playing together, like going to a movie or a concert, can enhance bonding and communication."
– Lynn Barnett, professor of recreation, sports and tourism at the University of Illinois at Urbana-Champaign [4]
While play has many benefits for adults, play's ability to boost creativity and improve interpersonal relationships  [5] are the benefits we believe in our experience will most benefit you and your team at work.  As Dr. Stuart Brown says in his TED Talk [1], "The basis of human trust is established through play signals."  This is why we get so many requests for games to be used as team-building tools, whether that team is your family, your scouting group, or your team at the office – playing games together builds trust, and trust builds better teams.
"Explore the possible." – Dr. Stuart Brown [1]
I was first exposed to this research at a presentation in spring 2019 by my friends at The Toy Association.  This got my wheels turning – that whole flexibility-of-thought thing.  The thought process went something like this:
I believe in helping people be as successful as they can be.
I believe that helping our workplaces build stronger relationships within their teams and having more creative and flexible thinking within those teams is good for everyone.
We have game stores.  We have a gaming pub.
Ding! [cue the lightbulb moment]
The Play Games for Lunch initiative
I want your team to be better.  I want your team to have better relationships with one another.  I want your team to be more productive, to have more creative ideas, and to make every one of your lives unambiguously better.*
I want you to play games at lunch.  Because I believe it will make you and your team better.
And I'll do my part by giving you games for free.  Really.
Here's how it works
You tell us some basic information about your team on the Play Games for Lunch registration form.
We make a quick visit to your office, talk briefly about the program, give you your first game, and make sure you know how to play it.
Your team plays said game at as many lunches as you desire.
Completely optional: take your team to lunch at our Oak & Shield Gaming Pub.  When you do, we'll give you another game to add to your team's workplace game collection.

The Oak & Shield Gaming Pub shares the John Ernst Cafe building with Panera and Chipotle, conveniently located at 600 East Ogden in Downtown Milwaukee, right on the Ogden & Van Buren streetcar stop.
Pro tip: make a reservation for lunch so we know you're coming – particularly for larger groups.

Repeat steps 3 & 4.  If you keep playing games at lunch, I'll keep giving you games to play.
If enough of you find enough value in playing games at lunch, I'll keep this program running – because delivering value is what it is all about.  As Milwaukee's local source for games (toys and puzzles, too), I believe in delivering that value right back to our community.  This seems like a really neat way to do so.
The other bits
There will be some initial bit of logging for your gameplay at the office.  Certainly just a quick scorecard initially, but I expect it might evolve over time.  I'll probably ask for anecdotes or testimonials at some point – yes, we'll probably even use those in the occasional marketing piece (with permission, of course).  But what I'm really hoping will happen is that our Play Games for Lunch initiative might spark some enterprising researcher to use it to further the evidence-based research into the benefits of play in adults.  Hopes and dreams, as it were.
Footnotes
* Maybe just a little bit.  I'm not claiming that playing games for lunch will overcome basic dysfunction or will take you from zero to hero all on its own – but enough that it will move the needle just that extra bit on a well-run team.  If you're on a well-run team, you know that getting that extra 1-2% is tough to find.  I believe this will help get you there.
These are the sources I cite directly above.  Do you have other evidence-based sources?  Let me know!
[2] The Toy Association has an extensive repository of evidence-based benefits of play for children at through its Genius of Play program,
TheGeniusOfPlay.org
.