X-Wing Regionals 2016 FAQ
Frequently Asked Questions for X-Wing Regionals 2016

Click here for pairings on the day of the event. Pairings will be uploaded to this link as they are created for each round during the event. Note: Test pairings may display prior to the start of the event. These are for test purposes only; please disregard.
Final standings will be also be available here after the event concludes.
Standings at the end of Swiss are here.
X-Wing Regional Championship
Board Game Barrister – Greenfield location
Saturday, November 12 and Sunday, November 13
Event Entry: $30
Frequently Asked Questions
Where exactly is your store?
The Board Game Barrister store at Greenfield Towne Center is conveniently located right by I-894, just off the 60th Street exit. We're located next to the Speedway gas station at the corner of 60th and Layton, across the street from the House of Harley. Our address is:
6120 West Layton Avenue
Greenfield, WI 53220
I'm coming from out of town – what's a good hotel?
We're near General Billy Mitchell International Airport (MKE), and there are a lot of hotels with a variety of price points and amenities to choose from just a quick skip down the freeway and/or Layton Avenue to the east of the store.  Here is a Google Map of nearby hotels.
Where can I park?
Parking for X-Wing Regionals is in the northeast section of the Greenfield Towne Center parking lot (behind the Speedway) and in the south row of the main parking lot adjacent to Layton Ave (these areas are marked in yellow on the map below). Street parking on Layton Avenue is also available (also marked in yellow). Volunteers with lightsabers will help direct you toward the appropriate parking.
Please do not park in the first row of spaces directly facing the building (marked in pink, orange and blue), as these are reserved for 1-hour shopping, or the employee parking area on the north side of the building (marked in purple).
How do I pre-register?
This event has a seating cap of 104 players and may sell out. There currently are two ways to pre-register for an event:
Stop by the store where you want to play and talk to a friendly Barrister. You can pay with cash, credit card, or MVP credit.
Pre-register online by visiting our Online Store.
Online pre-registration will close at 9pm on Wednesday, November 9.
If you are a member of our MVP Club, please have your MVP number handy when you pre-register.
When you pre-register, we will file your event ticket until the day of the event. You can claim it with your paper receipt, your ID or your transaction/confirmation number. (If you intend to claim your ticket using the transaction number, please ask for that number at the time of purchase.)
If you pre-register for an event, you are still expected to arrive on-time. If you have not arrived by the start time of the event, we will consider you a no-show and may sell the resulting open seat to a waiting player.
By registering for a Board Game Barrister event, you agree to let Board Game Barrister photograph or film you and agree that we may use such photographs of you with or without your name and for any lawful purpose, including such purposes as publicity, illustration, advertising, and web content.
What if I pre-register, and then I can't attend?
While we hope that such a situation doesn't arise: Pre-registered event tickets are non-refundable, non-transferable and may not be exchanged for store credit.
However, as this event is expected to sell out, the entire community would appreciate it if you could let us know if you're unable to attend. If you have not arrived by the start time (player meeting) of the event, we may sell the resulting open seat to a wait-listed player.
If I can't attend, may I transfer my ticket to my friend's name instead?
Sorry, event tickets are non-transferable.
If the event sells out, how do I get on the waiting list?
You can get on the waiting list by calling the Greenfield store at (414) 423-7100. You will need to provide the player's full name, telephone number, and email address.
How will the waiting list work? Can I standby for a seat on the morning of the event?
If there is an advance cancellation, the Greenfield store manager will contact players in waiting list order. Once contacted, the player will have 24 hours to call the store and buy their ticket before we call the next player on the list. Once you have purchased a ticket, you are no longer on the wait list; you are pre-registered.
Standbys:
On the morning of the event, all wait-listed players (and players wishing to join the wait list) must check-in to show they are physically present. Once you have physically checked-in, you may standby. We will begin by seating all pre-registered players for a player meeting. Any no-shows that are discovered at the time of the player meeting will be dropped from the tournament. At that time, we will fill vacant seats with standby players, in the order of the original wait list.
Why is the entry fee $30? That feels high.

A few considerations were involved in determining this year's entry fee:
We've received a ton of great feedback for the organization, smoothness, amenities, and atmosphere at our Regionals events. At the end of the day, we've found the entry cost that allows us to ensure that we'll break even on the costs that go into high quality events for up to 104 players over 2 days.
We pride ourselves on our high-tier Regionals prize support.  In addition to the FFG kit prizes, we're adding custom event-specific prize content, prizes for the side events, and 2 registrations Origins Game Fair.
For those who play in this year's main event, there will be no additional entry fee to compete and earn prizes in the side events

on Sunday

.
What should I bring with me?
You should bring ONLY the materials you need to play (ships, maneuver templates, dice, range ruler, damage deck, tokens, etc.) and your completed squad list.
To read more about squad building rules, and rules for dice apps and lasers, see the tournament information article.
Playmats will be provided for all players to use. You may also bring a water bottle with a watertight cap. The T.O. will not provide any extra materials.
Please leave all non-essential gear and materials in your car; with 104 players it will be very crowded inside the store. Please do not bring valuables with you.
Can I use my own playmat?
While you may not wish to carry around a playmat all day in a crowded store, yes, players are permitted to bring a Fantasy Flight Games brand playmat if they do not wish to use the provided mats.
Can I use modified ships? What about custom paint jobs?
Custom paint jobs are totally fine – we look forward to seeing them! However, you may not play with ships that have had their shape purposely modified.
Can I use custom or acrylic asteroids?
No.
Can I use custom or acrylic maneuver templates / range rulers?
Yes.
Is my initiative token required?
No.
When will pairings go live?
During the player meeting, the T.O. will make a verbal announcement that pairings are posted –  remember to refresh the page! Printed paper pairings will be posted at roughly the same time as the digital upload.
Where can I get food?
Board Game Barrister sells snacks, drinks, and other concessions inside the store. In addition, we will sell Cousin's Subs sandwiches and bring in a food truck for the majority of both event days.
Denson's Catering Food Truck
Denson's will offer a limited event menu, to be announced closer to the event.
Order forms will be available to allow players to place an order during their match, then pick it up when their match ends.
Please note that other outside food and beverages are not allowed inside the Greenfield store. All drinks must be in a watertight, screw top container (metal screw top water bottles will be available for purchase).
Where can I go between matches?
Depending on weather conditions, there will be canopies, tables, and chairs set up outside where players can sit and eat between rounds (marked in green on the map).
Where can I smoke?
Smoking may be done in the designated outdoor smoking areas only (marked in red on the map). This includes cigarettes, e-cigarettes (vaporizers), and chewing tobacco. Use of other controlled substances is prohibited, including but not limited to: alcohol and illegal drugs.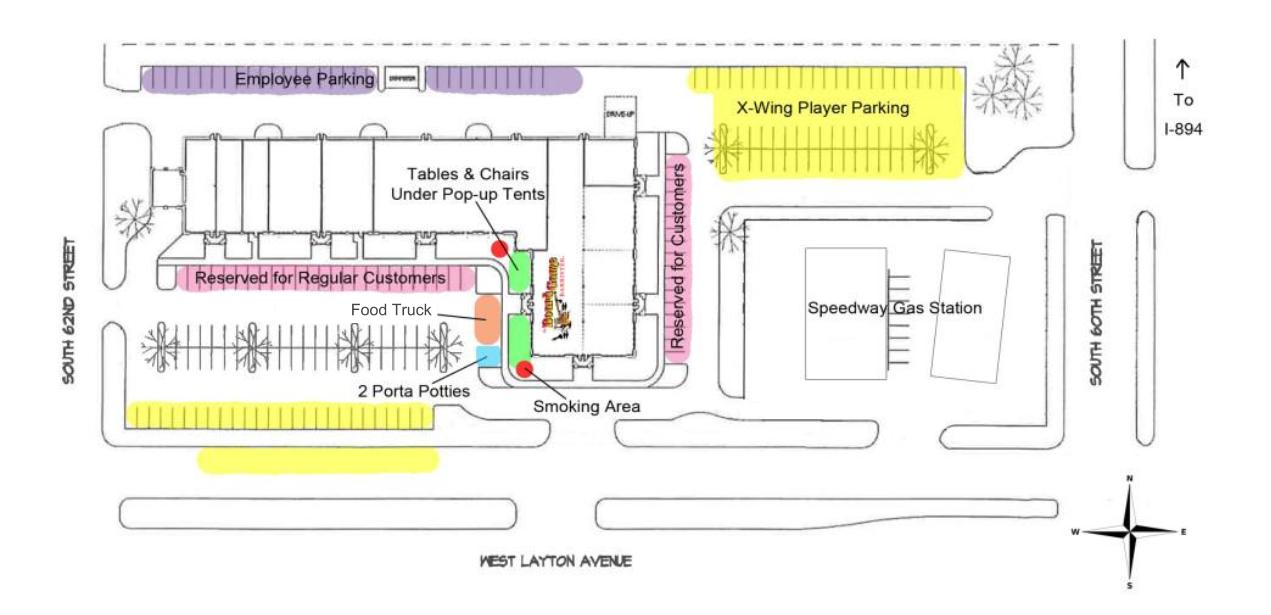 Is your store wheelchair-accessible?
Yes. Accessible parking is located in front of the Milwaukee Vein & Laser office. If you are bringing a mobility device with you, please contact us in advance at XWing@BoardGameBarrister.com so we can make plans to set up a match table with appropriate space for you.
What kind of restroom facilities do you have?
We have two restrooms inside the store. They include an accessible single-occupant men's room and an accessible single-occupant women's room. We are also providing two (standard size) portable toilets in front of the store, including hand sanitizer.
How will the tournament be run? What is the round structure?
Please read more about the tournament details on the tournament information article.
Will there be side events?
Yes, we will host multiple Side Events that will take place in tandem with the Regional Finals on Sunday, November 13. Each Side Event will be free-to-enter for tournament participants and introduce an exciting format brewed up by our store T.O.s.
The winner of each side event will win a custom maneuver template set specific to our Regionals event.
Get more information on the individual Side Events here.
Is there a Facebook event page?
Yes, you can chat with other players and select "going" or "interested" by clicking here. Note: You must purchase a ticket to reserve a seat for this event.
Is there anything else I should know?
Board Game Barrister is a family friendly store. Please use appropriate language. This includes spoken words, graphics/text, apparel/accessories, and gestures.
I have a question, but I don't see the answer here!
First, check our tournament information article. If your question isn't answered there, please email XWing@BoardGameBarrister.com