Toy Towers at Mayfair & Bayshore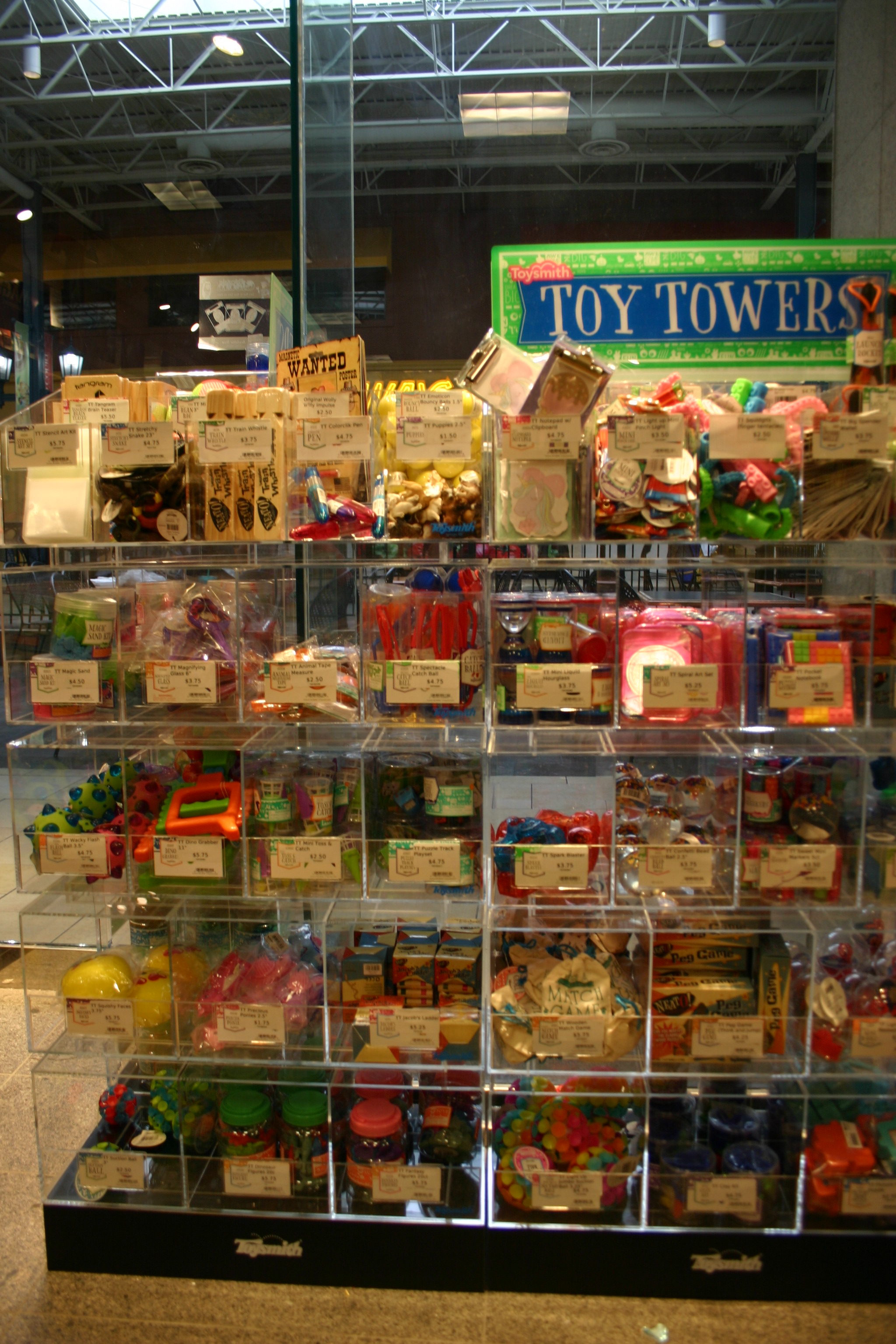 Have you seen the TOWERS of toys we built at Mayfair and Bayshore?
These epic "Toy Towers" are absolutely brimming with amazing toys, travel games and activities that will make a kid's day and entertain them for hours on end!
Bouncy balls, squirt guns, Jacob's Ladder, matching games, measuring tape, puppy figurines, train whistles, funny wallets—and that's just scratching the surface of what you'll find.
Notice how we skipped all the noise-making toys? You're welcome!
We know you don't need more toys in the house, so we catered the toys in our towers toward a couple of specific uses.
Party Favors
Twenty-five kids coming over for a birthday. What do they want for party favors? The answer is, anything small and fun!
Mini notebooks, toy rockets, squishies—toss them in with a couple pieces of candy and it's all a great surprise to find in a little favor bag.
Dig into the compartments of our Toy Towers and grab matching toys for everyone!
Travel & Downtime Activities
Most kids are good about bringing something along to entertain themselves, but sometimes they're wrong about what will interest them, or they just plain forget—and a bored kiddo in a car or waiting room can wreak absolute havoc on everyone else present.
Beyond toys and trinkets, the "towers" also hold a number of small, self-contained activities. Matching games, peg puzzles, notebooks, and more. Whether the kids pick them out themselves, or you stash them as a secret weapon for when they start getting antsy, you'll buy yourself
And again, they're all quiet games, so the other occupants of the lobby/waiting room/car/train/plane don't suffer.
Rewards & Prizes
When I was growing up, my family would go camping every summer. We'd sit and read, roast marshmallows, tell scary stories, whittle—all the iconic camping stuff. One of the highlights of each year's trip was a six-mile hike to a waterfall and back.
My brother and I always did pretty well starting out, but around the 2-mile mark, we'd start to lag. The thought that kept us going was that our mom always had a secret prize for us when we got to the falls. Little compasses, tools and toys were a great incentive to reach the halfway point, and a great distraction to make the three miles back pass more quickly.
Whether for finishing chores, doing something nice for a sibling—or enduring a long day at the mall—we hope you agree that there are some great options for rewarding your kiddos for a job well done.
There's one more reason to check out the Toy Towers: For Yourself! Frankly, I don't think I've owned a bouncy ball in decades, and well, I kind of miss it. Unleash your inner child and dig through some of the great stuff in the towers at the Board Game Barrister stores in Mayfair and Bayshore!
Written by Barrister Andy