Tabletop Day 2019 Games List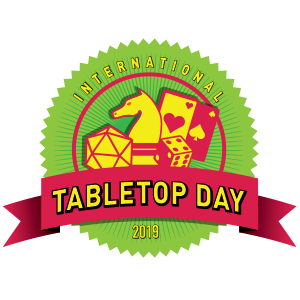 International Tabletop Day is Saturday, June 1 at all our store locations and the Oak & Shield Gaming Pub! Join us for a full day of free open gaming, a jam-packed schedule of games, and special premium events!
Host a Game at Tabletop Day
Check out the list of games below. See one or more games you'd like to host? Let us know—Fill out a quick Host-an-Event form, and mention that your event is for Tabletop Day!
We have copies of most* of these games in our library. We just need event runners!
Quick Hits

The Tea Dragon Society
Beagle or Bagel
Slapzi
This Game Goes to Eleven
Hello My Name Is
Bandido
Trash Pandas
FUSE
Magic Maze
Arboretum


Strategy Games


Call to Adventure
*Tiny Towns
Planet
*Everdell
*Sagrada
*Villainous
*Walls of York
Takenoko
Photosynthesis
Unearth
Raiders of the North Sea
Red Dragon Inn

Strategy Games Continued


*Root
*Wingspan
Scythe
Great Western Trail
Terraforming Mars
Between Two Cities
Smash Up
Azul
Colt Express
Betrayal at House on the Hill

Social Games

3 Things
The Mind
Codenames
Unlock! The Formula
Decrypto
Captain Sonar
Shadows: Amsterdam
The Resistance
Werewolf
One Night Werewolf

Cooperative


Spy Club
Harry Potter: Hogwarts Battle
*Five-Minute Dungeon
*Five-Minute Marvel
Avengers: Thanos Rising
T.I.M.E. Stories
*Robinson Crusoe
*Mountains of Madness
Mysterium
Arkham Horror: The Card Game
*Spirit Island
Codenames: Harry Potter
Magic Maze

For Young Kids & Parents

Zombie Kidz
Stuffed Fables
Snail Sprint
Heads Talk, Tails Walk
Kingdomino
My Little Scythe
Go Go Gelato
Fairy Tile
Karuba Junior
*Games in bold are not available in the store's game library. If you have a copy of the game and would like to host it, we'd love to see it played!
Want to host one or more of the games on this list? Let us know with this quick form, and be sure to mention Tabletop Day somewhere in your submission!