Summer Camps for Gamers Announced for 2018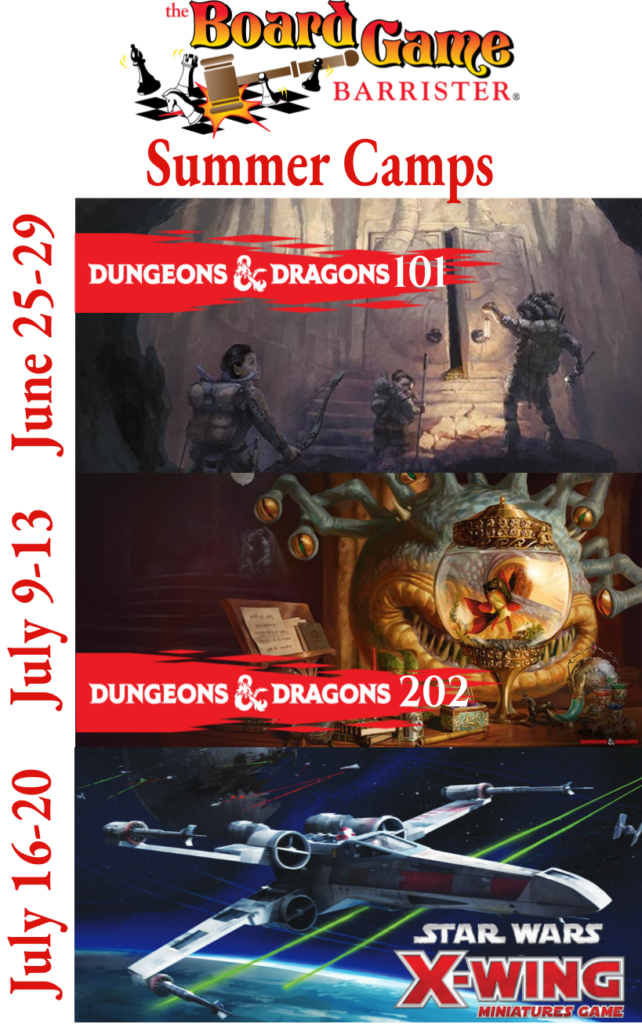 I'm excited to announce our lineup of 2018 Summer Camps!
This June and July, my fellow Barristers and I will host a variety of one-week-long camps for gamers who want to become, well, bigger gamers! We're excited to bring our in-depth game knowledge to a new group of "campers" each week.
Although gaming in our comfortable event space isn't exactly roughing it, we embrace a lot of the values of a traditional summer camp:
Respect. Board games are all about connecting with other people. If it wasn't for that human connection, and a shared respect across the table, there would be no reason to play tabletop games in the first place.
Independence. Attendees spend the afternoon away from home, developing their own understanding and strategies for the games they've chosen to take interest in.
Sportmanship. Board games, like any other game, often have a winner and a loser. But some of our best players are the ones who know how to lose correctly: Shake your opponent's hand, and turn your loss into a learning opportunity for how to do better next time.
In addition to instruction and plenty of time for play, every summer camp attendee will receive their own supply of important cards, books, dice, miniatures, or other materials for their game of choice—and will have access to all other supplies required to play the game.
Learn the essentials and become a more experienced player in one or more of our favorite games!
Mayfair Mall Summer Camps:
(Enrollment Closed) Dungeons & Dragons 101: June 25-29 • Ages 8-14
The Basic Dungeons & Dragons Rules, Strategy and Gameplay
(Enrollment Closed) Dungeons & Dragons 202: July 9-13 • Ages 11-14 (For Experienced Players)
For Experienced D&D Players on the Path toward Dungeon Master


Star Wars X-Wing: July 16-20 • Ages 11-14


Essential Flight School covering How to Play, Squad Building, and Strategy
Minimum attendance of 4 participants is required for each summer camp program, and each has a seating cap, so pre-registration is highly encouraged.
Questions? Contact me at [email protected]