May the 4th be Oak & Shield
Hear Ye, Hear Ye!
The Oak & Shield Gaming Pub shall have its grandest of openings on the fourth day of May.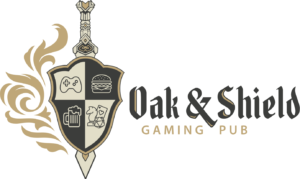 Or, put another way:  May the Fourth be Oak & Shield.
Ok, maybe that's being too kitschy about something that is already geeky.  But that is indeed part of what the Oak & Shield is all about – bringing people together with food, games, and geek culture.  And we can now say when it will all begin: May 4, 2018.
What is the Oak & Shield Gaming Pub?
What do you get when you take the strengths of the Board Game Barrister and combined them with the amazing team from 42 Lounge, Milwaukee's Gaming Nightclub?  What if you then put this bundle of awesome into a space that blends the Old World charm of the John Ernst cafe with the design savvy of Flux Design?  You get games – of both the tabletop and video persuasion.  You get food – from Carbs Against Humanity to Damnit Jim, I'm a Doctor, Not a Taco.  You get the creative craft cocktails from 42 – yes, including the Pan Galactic Gargle Blaster and Butterbeer (word has it that a non-alcoholic Butterbeer for young wizards is being developed in the potions laboratory).  This is what you'll get at the Oak & Shield Gaming Pub.  It will be amazing!
Young wizards?  Is this an all ages establishment?
You betcha!  The Oak & Shield will be all ages daily until 10pm.  From 10pm until close, you have to be 21 years or older to continue gaming.  So say we all.  Or, so says city licensing.
Where?  I must know where!
The Oak & Shield Gaming Pub is conveniently located on Milwaukee's Lower East Side / Upper Downtown (is that a thing?).  We're right on the streetcar line, which will be awesome when it begins operation this fall or early 2019, and so close to MSOE we might as well be part of the campus.
Oak & Shield Gaming Pub
600 East Ogden Avenue
Milwaukee WI  53202
414-988-9982
We're in the middle-third of what was once the John Ernst Cafe, which had been Milwaukee's oldest continuously operating restaurant until the beginning of this century.  It was most recently the Karma Bar & Grill, nestled between Panera and Chipotle.  Indeed, it is likely that the signs will still say Karma by the time we open.  Here are pictures of the front with the current Karma sign and a Photoshop of what it will look like when our new sign is installed (well, close – we've revised the logo since).
Events – I want to run an event at the Oak & Shield
Fantastic!  You can use the Board Game Barrister Event Registration Form and select Oak & Shield as the location.  We'll get the details worked out with you to have the appropriate tables and resources allocated for your event at the Oak & Shield, same as we do for events at the retail stores.
What will be missing?
Barrister Bucks.  MVP Points.  The ability to sell games.
These all have a common thread: Point-of-Sales computer systems.  What we need our POS system to do at our stores is very different that what we need a bar-and-restaurant POS system to do.  Sending orders to the kitchen.  Open tabs.  Ingredient substitutions.  Tips.  These are all things that a good restaurant POS will be optimized to do, and are things we don't need at all in our stores.  So, we're running a different POS at the Oak & Shield, and that means that the features which we've built into our stores' POS system are not available.  Yet.
With varying levels of difficulty, I believe we will be able to integrate each of these to greater or lesser extent over time.  My first goal will be to allow Barrister Bucks to be redeemed (but not sold) at the Oak & Shield.  Next will be having some games for sale with the ability to track inventory on them.  If you play a game that you really love over a burger and a beer, I want us to have a for-sale copy that you can buy right from the restaurant.  I should be able to make this happen easily enough.  I expect both of these to have at least a minimum level of integration within a couple of months.
MVP Points are more difficult.  Without getting into the technical weeds, I will say only that my timeline for building any sort of integration between the restaurant POS and our MVP Point system is "next year".  And I expect the integration to be partial.  This one is hard, at least as I currently understand the problem.
I have a gift card or certificate to Karma, 42 Lounge, or 42 Ale House – will you accept them?
To some extent and for a limited time, yes.  Each of these were tracked in a different way, some of which we do not have access to.
Karma
We believe that we will be able to get access to this data.  When that happens, we will honor Karma gift cards through the end of 2018.
42 Lounge
We will honor 42 Lounge gift certificates through the end of 2018.
42 Ale House
While 42 Lounge and 42 Ale House ceased their association a few years back, we will honor the older 42 Ale House gift certificates that were issued when the 42's were associated with each other.  We will honor gift certificates that look like this through the end of 2018: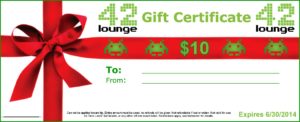 A brief history
Back in February, we first announced our partnership with 42 Lounge to open the Oak & Shield Gaming Pub (you can read the press release here.) This project actually stretches back much further.  Lynn and I first started meeting just about a year ago, by which time I had already been looking at opening a store that also served food for some time.  The roots of what became the Oak & Shield go back nearly three years.
If I thought there were many twists, turns, and false starts in the time that led up to that press release in February, it was nothing compared to the roller coaster that has followed since.  This opening a restaurant thing is a ton of work – and fun – and definitely not for the faint of heart.  A huge amount of credit goes to Lynn, the 42 Lounge crew, Eddy and the Karma staff that have stayed on, and all of Team Barrister.  On the unusual-people-to-thank list, I've found Charles, the landlord, a true pleasure to work with and the Karma owners, Ric and Ari, to be amazing, compassionate people for whom I wish nothing but the best.  There is no way the Oak & Shield would come into existence without any of them.
When we have our grand opening on May 4, we will be fantastic in many ways.  Some things will not be perfect, which we won't know until we open the doors and learn.  Please, visit the Pub (as I've come to call it), put us through our paces – help us learn and improve.  Together, we'll iron out the kinks – and then you'll have an even-more-amazing place to hang out and game.