Making Dice—Day Two: Casting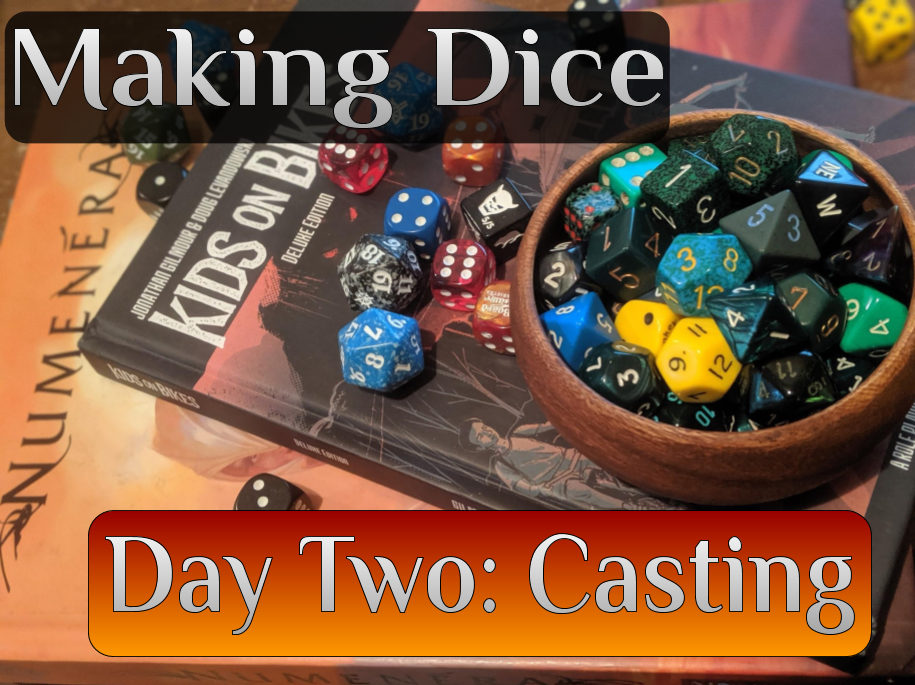 Start making your own dice—from start to finish!
Check out Day One: Molds, if you missed it last week
Day Two: Casting
You've waited the appropriate amount of time before pulling your molds out of their containers and then pulled the dice out of those molds. Everything is set and bubble free and now you're ready to actually make your dice!
The prefered casting medium here is resin. This is another one where you'll have to see what exactly works for you – I personally use EasyCast Resin, but I've heard amazing things about Art Resin. Just be sure that, whatever resin you use, you use good safety sense and use respirators and cast only in well ventilated environments. Resin is toxic when not used properly, so protect yourself and keep animals away from your work space!
When pouring and mixing, you'll notice that the resin itself comes clear. You have to do a bit of work to gussy it up and there are a whole variety of materials you can use to do so! Alcohol inks do great to color the resin and leave it transparent. Mica powder, commonly found in makeup products, can do the same too. With mica powder however, using a lot of it will make your resin opaque and shimmery. For transparent dice, you can also use glitters to make it shine, small confetti to fit a holiday or character theme, or just fill it with nonsense like candy or a tiny figure that you found and realized would fit perfectly in that d20.
This is a good time to experiment! See what materials work for you and look to others for advice as well! You'd be surprised at what other people have already tried.