LARPS: The Series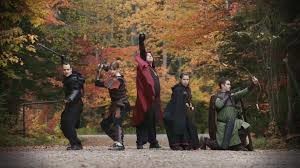 When I'm not playing games or selling them, I am often watching things game related. YouTube is a haven for such things, and one of my favorite things on YouTube right now is the webseries, LARPS.
Some background may be in order for those of you that are not familiar with the world of LARP and all that it entails. A LARP is a Live Action Role Playing Game. So, imagine D&D played out in a field instead of at the table. Instead of using miniatures on a map, you are your character and the map is the real world around you. There are some great documentaries out there that give you an glimpse at what LARPing is all about. It is the perfect mix of a role playing game and a stage play.
LARPS is a series about a group of folks that enjoy just that. While much of the series focuses on what happens in the game, we do also get some bits about the people behind the characters. One of the things I enjoy most is that the humor isn't done in a mocking way, which is sadly, often the case with the portrayal of gaming in general when it comes to TV and film. The series pokes fun in a way that is light hearted and understanding, a kind of, we've all been there kind of thing.
The entire first season is available to watch on YouTube as well as on the Geek and Sundry page. The amazing cast and crew are already busy preparing for season two. As an amateur filmmaker myself, I have found webseries to be a great alternative to the same old same old that we get from a lot of traditional television shows, and I always support independent creators. So, if you want a good laugh, and just some good storytelling, give LARPS a look.