KeyForge: Age of Ascension—Pre-Order Today!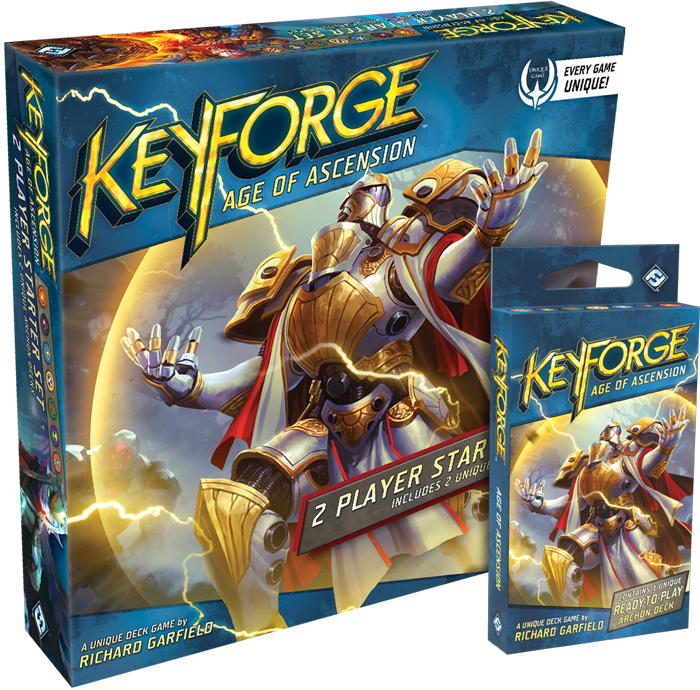 Become a new Archon in Age of Ascension! This new KeyForge set brings 204 brand-new cards, joining the 166 cards first introduced in Call of the Archons to create an entirely new pool of 370 cards.
Importantly, Age of Ascension is a companion to the Call of the Archons set, not a replacement or a sequel. You don't need to start with Call of the Archons in order to reach Age of Ascension, and you don't need to switch to Age of Ascension Archon Decks in order to remain competitive.
This new set also brings exciting new keywords like Alpha—which means the card can only be played as your first action during a turn. This will be a favored keyword for House Brobnar, with cards like House with cards like First Blood.
On the other end of the spectrum is Omega, meaning the exact opposite of Alpha—Omega cards immediately end the action step of your turn. Making use of this keyword, the varied beings of Untamed can call upon a Duskwitch, while the demons of Dis can make use of an Unlocked Gateway.
Finally, the new Deploy keyword mixes up your ordinary approach to building your battleline. Rather than building outward from the edges, a creature with Deploy can enter play anywhere in your battleline! You will find this keyword on only the quickest warriors, like Lamindra of House Shadows.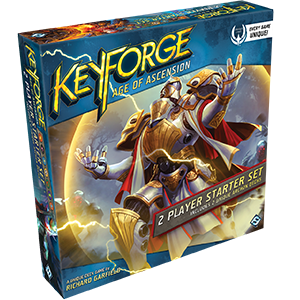 The KeyForge: Age of Ascension Two-Player Starter provides you with all the tools you need to either begin or expand your adventures on the Crucible, featuring two unique Age of Ascension Archon Decks, a Quickstart Rulebook, two Poster Playmats, and all the keys, tokens, and chain trackers you and your opponent need to start playing!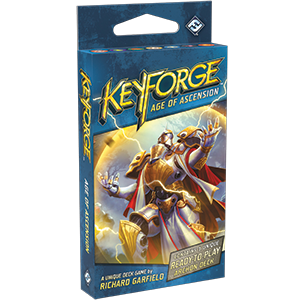 Each unique deck offers a full play experience without the need of deckbuilding or boosters. Filled with strategic potential, every Age of Ascension Archon Deck has its own name, Archon design, and distinct mix of cards just waiting for you to discover the synergies and power within. Enter a new age and begin your quest to ascend to a new plane!