Independent Horror Right in Your Backyard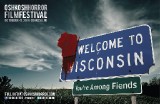 I am a big film junkie, and one of the genres I love the most is horror. Horror may not be for everyone, but for those of us that love it, it is a passion that burns hot. While I love horror films, I am generally not a big fan of the big budget horror movies coming out of Hollywood. Nope. I'd much rather watch some low budget flicks made by people that truly have that desire to make something, most of them knowing that their films will never make a single dime. Watching a film made by people that truly love what they are doing is something special, and it shows through in their work.
Now enjoying its fifth year, the Oshkosh Horror Film Festival is a bastion for independently made horror, with a little bit of focus on films made right here in Wisconsin. The festival runs for two days, October 4-5. Most of the films are of the short variety, with a smattering of feature films thrown into the mix. It promises to be two days full of scares, screams, and plenty of laughs too.
It isn't that far away either, just a little over an hour north of Milwaukee. The films all show at the quaint Time Community Theater in the heart of downtown Oshkosh. Each day is only $5, or $7 for a weekend pass. Not a bad deal for about 16 hours of horror goodness. For more information, just check out the Oshkosh Horror site.