Imperial Troops Have Entered the Base! FFG Brings Us….Star Wars Imperial Assault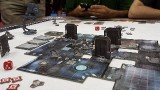 The Death Star has been destroyed, but the battle is far from over. Coming this winter from Fantasy Flight Games is Star Wars: Imperial Assault. The rebels have struck a mighty blow against the Empire, and now you can carry on that fight.
There are two different ways to play the game. You can join up with your friends and play through the narrative campaign that will take you through a thrilling series of missions. Or, you can face off against a single opponent in a skirmish game where each of you battle for specific objectives.
Being a big fan of Descent and Star Wars, this game struck an immediate chord with me when I saw it on display at Gen Con. The minis are wonderful to look at and the starter game comes packed with 34 of them to get the battle started. You also get both the Luke Skywalker ally pack and the Darth Vader villain pack with the game.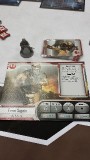 I am a big fan of games that I can easily repurpose for another one. I can already picture the miniatures from Imperial Assault gracing the table when we play the Star Wars Age of Rebellion role playing game. Just from the short introduction I got to the game at Gen Con, I can easily see using both games in tandem for a night of pure Star Wars induced bliss. Of course, I am normally of the opinion that one can never have too much Star Wars, at least in relation to episodes IV-VI.