For the Kids: Marble Run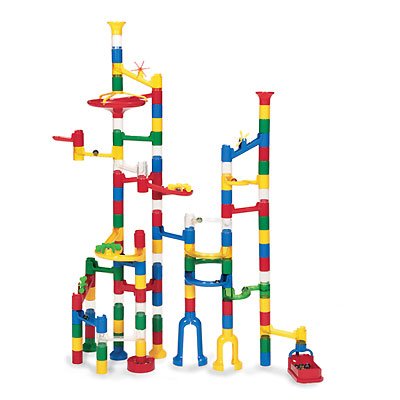 Get rolling with the brain-exercising fun of Marble Run!
Build soaring towers, twisting mazes and more as you send your marbles across bridges, down spirals and through spinning wheels for hours on end. Create something new every time, and see where gravity takes you!
With Marble Run, kids love to challenge themselves and see what new ideas they can implement to build upon the last contraption. And for the slightly more advanced builders, jump tricks and hoop pieces will introduce skills in trial-and-error as well as momentum and trajectory.
This building toy for ages 4+ provides endless hours of engineering fun with 110 snug-fitting pieces in over a dozen distinct types, as well as 20 marbles to add some madness to the track!
Where to start?
When a child first opens this box and finds over 100 colorful, creative pieces, they're going to want to begin experimenting immediately. Let them begin putting pieces together and developing a base understanding of how each one works.
Then, after they've had some time to explore the pieces and see what they can build, direct them toward certain building goals:
Build two tracks and race marbles down both to see which takes longest.
Move a marble from Piece A to Piece B, without moving either of those pieces.
Build a track that takes the marble a really long time to travel. Then time the track and try to make it take even longer.
Build a single track that uses as many pieces as possible.