RPG Roulette: Threadbare
When:
February 6, 2020 @ 6:00 pm
2020-02-06T18:00:00-06:00
2020-02-06T18:15:00-06:00
Cost:
100 MVP points or $3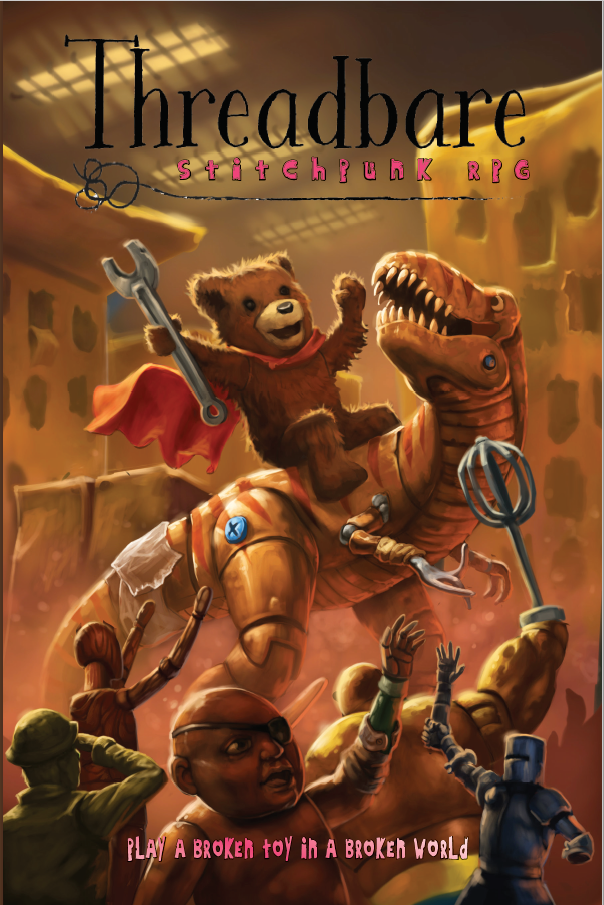 The ragdoll finishes with her stuffed panda patient and wishes him a cheery farewell, tucking his payment (2 buttons and a tiny watch gear) into her skirt pocket. She quickly schools her face to hide her sly, greedy smile when she steps across the threshold to the waiting bulldozer. His repair is going to need glue, and glue is a costly resource, my friend…
Join us for two weeks of Threadbare RPG, a game in which you and your fellow players will play as jury-rigged toys in a broken world.
New players are always welcome! Each week, we'll review the game's mechanics as well as where we last left off in the story.
More about Threadbare RPG
Threadbare is a Powered-by-the-Apocalypse role-playing game by Stephanie Bryant. You'll only need two 6-sided dice to play.
Your character starts out as a Softie (soft-filled toy), a Mekka (hard-shelled, plastic or metal toy), or a Sock (a single sock, often thought to have been lost in the laundry).
As you progress in Threadbare, your character changes. Every time you are damaged and repaired, you change your description and even your personality!