Prerelease Weekend–Innistrad: Crimson Vow
When:
November 12, 2021 – November 13, 2021
all-day
2021-11-12T00:00:00-06:00
2021-11-14T00:00:00-06:00
Where:
Mayfair & North Shore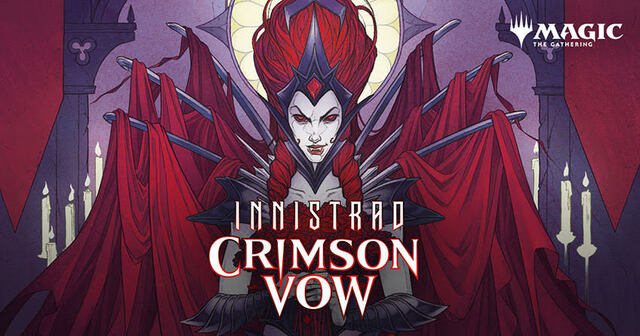 Must have an approved "Vaccinated" status to play in the event.
Submit your COVID-19 Vaccine Status here.
(Pre-registration is available in-store for players who have submitted their vaccine status for an in-store MVP account.)
Welcome to Prerelease at our Mayfair & North Shore Locations!
As a participant, you'll be among the first to arrive at the grandest wedding Innistrad has ever seen.
Open six booster packs, build a deck, and compete for more packs and prizes!
Claim your seat by pre-registering online or in-store!

Note: Online Pre-registration will not be available on the day of your event. In-Store registration will be available until the event's listed start time.
Friday Prerelease—November 12
Registration & Check-In—5:30PM
Deckbuilding Begins—6:00PM
Play four Best-of-One Rounds, each 25 minutes
Saturday Prerelease—November 13
Store Opens & Registration—11:00AM
Deckbuilding Begins—11:30AM
Play four Best-of-Three Rounds, each 50 minutes.
How Does Prerelease Work?
At a Board Game Barrister Prerelease event, you'll open six draft booster packs from the new set. Build a deck from their contents and play your new deck against a new opponent every round! See our Prerelease Prep from a Former First-Timer for some more guidance and insights.

Prizes
Everyone who plays through the entire event will take home booster packs from the new set!
0-1 Wins – x1 Draft Booster + Promo Pack
2 Wins – x2 Draft Booster + Promo Pack
3 Wins – x3 Draft Booster + Promo Pack
4 Wins – x4 Draft Booster + Promo Pack