Pathfinder 2E Launch Session
When:
August 4, 2019 @ 12:00 pm
2019-08-04T12:00:00-05:00
2019-08-04T12:15:00-05:00
Cost:
100 MVP Points or $3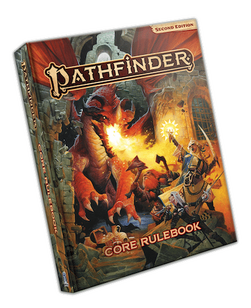 Pathfinder Second Edition has arrived! Help us celebrate with a launch session, Saturday August 3, Sunday August 4, or both!
Pathfinder 2E is the culmination of over a decade of development and feedback from more than 125,000 gamers. Join in and create a heroic character before setting off on daring quests and facing fearsome foes.
Your Game Master, Joe, has been running Pathfinder events for many years, and will be available to guide your journey and answer your every question.
New Players Welcome!
All materials will be provided, as well as a rules overview and guidance!
What's new in Second Edition?
The new edition introduces plenty of new features
Easier to Learn, Faster to Play
Streamlined rules and intuitive presentation get you right in the action, whether you're a seasoned veteran or new to roleplaying.
Endlessly Customizable
The new system features deep character customization, allowing you to tell the stories you want, featuring your own unique characters.