Kids on Brooms—Virtual RPG Session
When:
July 26, 2020 @ 3:00 pm – 6:00 pm
2020-07-26T15:00:00-05:00
2020-07-26T18:00:00-05:00
Where:
Virtual Event—Roll20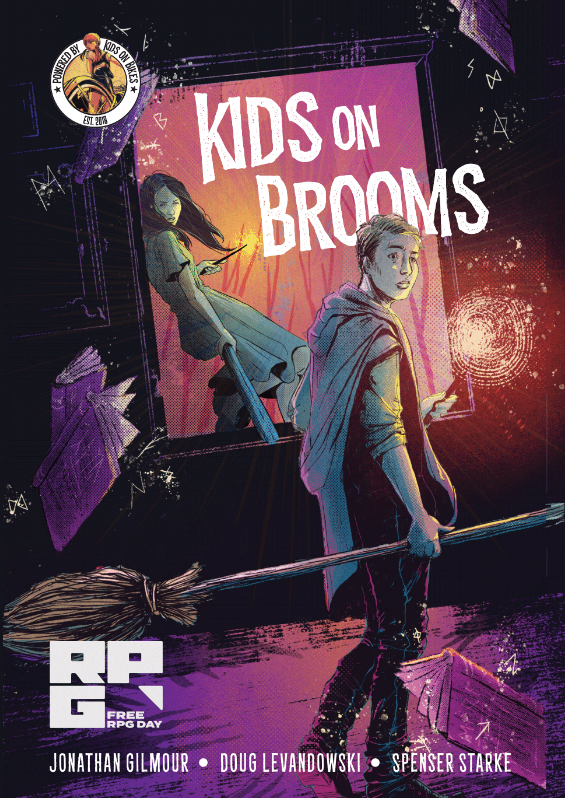 You pull your wand from the folds of your cloak, and its glowing blue end illuminates the door in front of you—the entrance to the banned books section….
Join Barrister Glenn for a virtual one-shot session of the new roleplaying game, Kids on Brooms.
To participate: Meet in the #lobby room on Discord at the event's start time.
No materials or prior experience required. All game mechanics will be explained as we play.
Free RPG Day Series
This event is part of a four-week series, featuring content and adventures from Free RPG Day 2020.
Find the entire event series here!
Accounts you'll need in order to take part
—Roll20 (free account)
—Discord (free account)
———Join the Board Game Barrister Discord channel here.
More about Kids on Brooms
Kids on Brooms is a collaborative role-playing game about taking on the life of a witch or wizard at a magical school you all attend—a place full of mystery, danger, and thrilling adventure. From dealing with strict professors to facing down mythical beasts, you'll get the opportunity to ride brooms, brew potions, and cast powerful magic as you uncover the incredible secrets your school and its inhabitants hold.