Guild Ball: Rookie League
When:
August 29, 2018 @ 5:30 pm
2018-08-29T17:30:00-05:00
2018-08-29T17:45:00-05:00
Cost:
$15 (Rookie players are not included in the league entry)
Welcome to the Rookie League!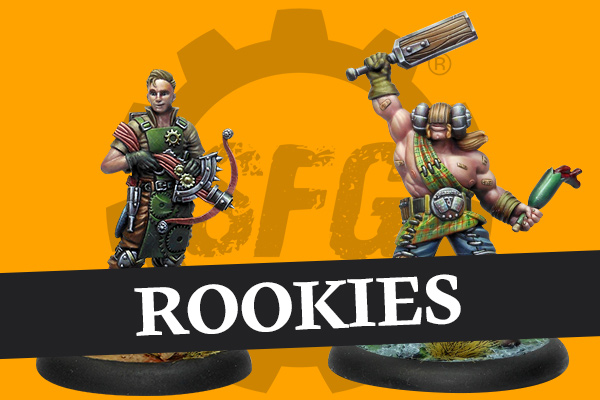 Rule One.
Have fun! This is a game we all enjoy and the point of this league is to simply play more of it.
With that said, let's dive in!
What is Rookie League?
Each team has one Rookie that has a number of different progression paths that they can choose to follow during the course of the League. The paths that the player progresses through must be chosen at the start of the League; if a coach wants to change their player's progression path, they must start right back at the beginning with a Rookie-level player!
(A Rookie player is a unique model and card set that is acquired separately from the rest of the Guild.)
League Overview
All players must choose a Guild to play at the beginning of the league and continue to play each game with a roster built from legal players of that Guild. Roster building rules can be found below.
All players are required to organize their matches with each other. Each player is must complete two matches within a two week period. At the end of each match you can level up your either the front or back of your rookie card by one level. Full rules for rookies can be found on the Rookie League Rules & Resources page.
Matches can be played any time, and do NOT need to take place during the listed Rookie League event times.
Please limit yourself to two matches every two weeks, this will ensure a level playing field for all since everyone's rookie will be roughly at the same power level.
All matches must be completed by September 5th.
League Scoring
Wins: 3 Points
Losses: 0 Points
Draws: 1 Point
Match Guidelines
Matches are untimed.
The use of a game plan deck and terrain are required. You can find a printable set of the game plan deck and terrain as well as the terrain rules in the links in the Rookie League Rules & Resources.
Each player can bring a roster of up to 10 models that may play for their Guild. This roster must consist of 1 Rookie, 1-2 (Captain) models, 1-2 (Mascot) models, and 4-7 squaddie models that play for the selected Guild. *Since Blacksmith's team construction is different simply bring 9 models and a rookie.
After dice are rolled and kicking and receiving players are determined both  players will select their Captain and Mascot, or Captain and Apprentice Models simultaneously. Then the players alternate choosing models from their roster starting with the receiving player until each player has completed a legal six player team.

Rookies must be played in every game!
Click here for the full Rookie League Rules & Resources.
Rookie League Prizes
At the end of the league, we'll hand out prizes, including promo and spot-glossed player cards, Chibi mascot cards, exclusive ball-markers, Lucky models and cards for all participants, and more! Prizes will be awarded in the following categories:
Rookie of the Year: Has the highest "League Points" score at the end of the league.
I make this look easy: The rookie who has scored the most goals.
Pain Bringer: The rookie with the most Takeouts.
Ball Hog: The team with the most tackles.
You wish you looked this good: Awarded to the best painted Rookie (Judged during the final week of the Cup).
(Models are only eligible if you have painted them yourself.)