Frostgrave Night
When:
2020-05-19T18:00:00-05:00
2020-05-19T18:15:00-05:00
Cost:
100 MVP points or $3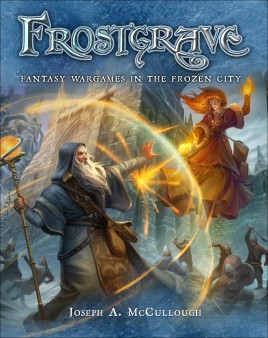 Pack your treasure-hunting gear, grab your band of loyal followers, and we'll see you in Frostgrave!
Join us on the Third Tuesday of every month for Frostgrave night, where we'll play a casual match or two of this strategic miniatures game.
New players welcome!
If you're new to Frostgrave—or even to miniature games altogether—don't hesitate to join us! Our players have more miniatures than they know what to do with, and they're always happy to walk someone through a new game, or welcome a new player to the hobby as a whole.
More about Frostgrave
Amidst the frozen ruins of an ancient city, wizards battle in the hopes of discovering the treasures of a fallen empire. In this fantasy skirmish wargame, each player takes on the role of a wizard from one of ten schools of magic, and builds his band of followers.
Each game of Frostgrave is quick and can easily be played in an hour or two—and those games can then be connected into an ongoing campaign!