Friday Night Magic—Bayshore
When:
March 17, 2023 @ 5:30 pm – 8:00 pm
2023-03-17T17:30:00-05:00
2023-03-17T20:00:00-05:00
Where:
Bayshore
5789 N Bayshore Dr
Milwaukee, WI 53217
USA

Cost:
Get $10 Off with $10 Entry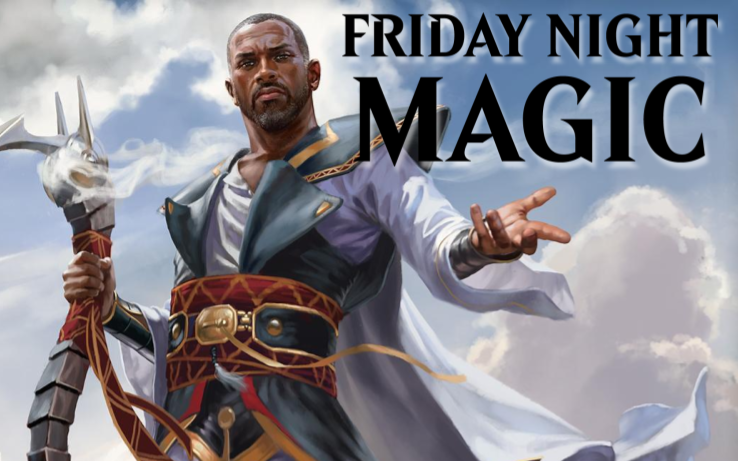 Welcome to Friday Night Magic at our Bayshore location!
Every Friday night, we play Magic: the Gathering—Commander format
Registration Begins: 5:30PM
Event Start: 6:00PM
COVID-19 Event Policies (Please Read):
Masks are Required for event participants. Free disposable masks are available–ask a Barrister for assistance!
Companion App Check-In (Encouraged for all players)–This event will support the Magic: the Gathering Companion app, so you can check-in, access live updates on pairings, check round times and more from your phone. Get the app before your next event for the full Companion experience.
Commander Format Event – $10 Off with your $10 Entry

When the event begins, you will be assigned to a Commander pod to play a single game. If you're new to the Commander format, read on below!
$10 Entry—Get $10 Off other items in your purchase when you register!
Commander Prizes
The winner of each pod receives a Premium Promo Pack.
All other players receive a Promo Pack.
Players are welcome to continue playing casually after their event concludes. Please begin packing up 15 minutes prior to the store's closing time. Thank you!
*    *    *    *    *
New to Magic: the Gathering?

If you're new to the game, there are some great resources available for learning:
If you like reading rules, you can start with Magic's basic learn-to-play guide.
If you prefer to learn by doing, stop into the store for a brief demo with a Barrister. (We suggest calling first to see if the store is slow enough for a demo)
You can also download Magic Arena for free and learn the game on your PC, phone or tablet.
New to the Commander Format?

In Commander, you'll pilot a deck of 100 unique cards (yep, only one of each card allowed). One of your cards is your Commander, a Legendary creature who you can summon from your Command Zone any turn of the game, even if they've already been defeated—some special Commanders even have special abilities that are active while they're dormant in the Command Zone.
Commander is normally played in free-for-all "pods" of 2-5 players. You'll the game start with 40 life, and your goal is to be the last player standing.
If you want to jump right in, ask a Barrister about Ready-to-Play Commander Decks, available for purchase!
Find our more about Commander here!