Dungeons & Dragons for Kids! (Adventure)
When:
February 17, 2019 @ 4:00 pm – 6:00 pm
2019-02-17T16:00:00-06:00
2019-02-17T18:00:00-06:00
Cost:
$10 per player (Parents encouraged to participate for children ages 6-8)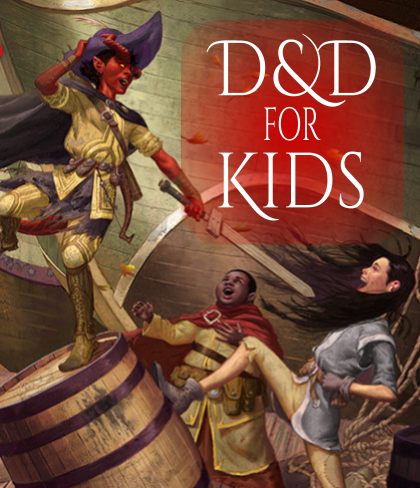 Your training is complete and it's time to begin your life of action and adventure in Dungeons & Dragons!
Together, we'll tell an amazing story about your character's heroic choices and amazing quests. All game materials will be provided, but players wishing to bring their own dice or a miniature representing their hero may do so.
Important:
Players who have not yet graduated from Barristerberg Adventuring Academy will first want to attend our D&D for Kids Class event earlier that same day!
Adventure Event
This D&D "adventure" will allow young players to use the knowledge they learned in the academy to tell a story as a group and accomplish great deeds!
Tier 1 Event
This "Tier 1" event will focus solely on the fundamentals of Dungeons & Dragons gameplay. Participants will utilize the essentials of:
Listening to descriptions of the story world and making choices for their characters;
Interacting with the Dungeon Master's story world and the characters it contains;
Basic rules of adventuring and fighting (Example: Roll a die and add your attack value to see if you hit this goblin);
Acting in turn so that the whole group participates.
A "trimmed" portion of the Dungeons & Dragons rules will be used during this gameplay session. To continue learning the complete D&D ruleset, also join us for our future Tier 2 and Tier 3 events.
About your Dungeon Master
Chris has been playing Dungeons & Dragons and other tabletop roleplaying games since 1981. For many years, he has run events in Board Game Barrister stores, at official conventions, and at home. Chris has published several pieces in third-party roleplaying books and has written numerous adventures and campaigns.