GenCon Wrap-Up: My First Cosplay
My First Cosplay
This year I made an offhand comment about how cool it would be to cosplay as Imperator Furiosa from Mad Max: Fury Road. My friends encouraged me to do it, and so with only a couple weeks until Gen Con, I put together my first cosplay.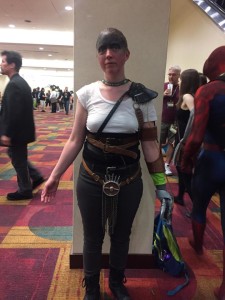 Research
I spent a lot of time collecting movie images from the internet. Two great sites that helped me were: http://madmaxcostumes.com and http://jackgabrielcosplay.tumblr.com
Materials
I knew the hardest thing to obtain would be all the leather parts. I spent a few weeks visiting thrift stores. I purchased leather belts with plain, square-shaped buckles. I also picked up several leather-look women's purses that had useful-looking straps and hardware on them. Then, I picked up additional hardware from Home Depot, including a plastic hose, a mesh-covered hose, and a pair of gardening gloves.
Costume
I lucked out and found some 80's-looking combat boots at Goodwill. I got grey skinny pants at Charlotte Russe. I found an off-white scoop-neck t-shirt and a black infinity scarf at Forever 21.  The underbust corset is actually made from the middle section of a stretchy little black dress I found at Goodwill.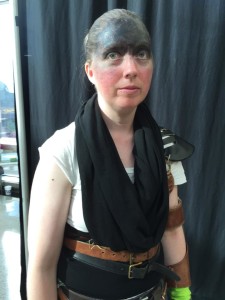 Makeup
I ended up using Maybelline Color Tattoo Leather (in #100 Dramatic Black) from Target. It's a cream gel eyeshadow. I also had several friends recommend a theatrical makeup called Mehron CremeBlend Stick, but I couldn't get to my local theatrical supply during their business hours. I also used eyeliner and mascara, but that's it. And yes, I actually went out and got an undercut so my hair would look more like the character.
Special Pieces
I used thermoplastic pellets to mold two finger extensions and the belt decoration.  One brand name of thermoplastic is Friendly Plastic, and another is Polymorph.  Thermoplastic has a low melt temperature, so it becomes malleable when you dip it in very hot water (you can also use a heat gun). Afterward I painted them silver with craft spray paint.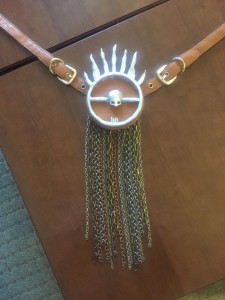 Harness
I spent a lot of time cutting apart the leather-look purses and making the harness. I made two arm cuffs, lined them with craft foam for comfort, and used industrial strength Velcro as a closure. The pauldron is actually the side of a purse with lots of modification and cutting. (Also, lots of hot glue.)
Prosthetic Arm
I quickly gave up on creating an actual arm with rods. I opted to wear a bright green sleeve under everything as an intellectual's solution to a tricky art problem. On the glove, I added the two plastic finger extensions, a rubber grip from a cheap screwdriver handle, and I taped the last two fingers together with gaffer's tape. The metal parts with holes were from a vegetable steamer basket. I covered the rest of the glove with craft foam, gaff tape, and silver spray paint.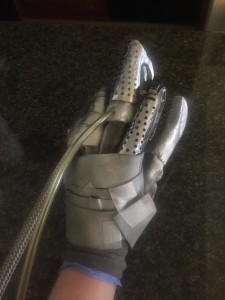 What I Learned
I wish I had taken more photos at Gen Con. The makeup was really hard to take off (I used olive oil and about half a box of Q-tips), so I don't know how eager I am to put it on again. I also had to de-arm myself halfway through my day at Gen Con, because the arm cuffs were cutting off circulation to my left hand more than I thought.  And the fancy belt buckle with the fragile flames on top made it difficult to do things like sit down and use the restroom (which are important to do at Gen Con). Thankfully I was able to get help from the Cosplay Repair person who was walking around on Saturday.
The next time I do a cosplay at a convention, I will pick something more comfortable to wear for an extended period of time, and I will definitely bring a friend who can help carry my stuff. Furiosa must have looked odd with a bright blue backpack. I did get some salutes, though.