Calendar
Too overwhelming?  Select Tags to filter by event types.
Oct
14
Sat
Iron Dragon

@ Greenfield
Oct 14 @ 5:00 pm
The Dragon rides at midnight!  er, 5pm!
Join "the" Barrister, himself as we play with crayons and dragons-that-are-trains* in this new gorgeous edition of the classic Iron Dragon rails game.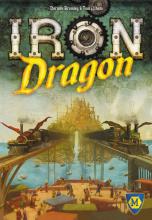 * Ok, seriously, this is a lengthy game in the Empire Builder series of games, affectionately called the "crayon rails" games because they are railroad games where you draw your track on the board with crayon.  Rails games remain some of the most engrossing, best games I've played, and Iron Dragon is the longest, most-involved of them all.  BECAUSE THERE ARE DRAGONS!  And the Rainbow Bridge.  And the Underground (never go to the Underground!)  But I digress.  This game will probably take 5-7 hours, and we'll be playing long after the store officially closes.  Rails games are not hard, but they are involved.  We'll hopefully have multiple tables going, so stop by, see what's going on, and join in.  I typically don't recommend Iron Dragon as your first crayon rails game because it is the longest and most difficult, but those who have played it as their first seem to love it just as much as I do.
-G
From the publisher's description
Return to the fantasy-steampunk world of Darwinina in Mayfair Games' classic Iron Dragon! After a century of ruin and chaos, the dwarves, elves, humans, orcs and trolls have begun to rebuild their world. To do
this, they need to bring back the steam driven dragons of trade, they need the Iron Dragons.
Using the classic crayon rails mechanics, build tracks across this magical land to deliver goods and earn money. Iron Dragon also features random events that can trigger serious dilemmas, making your job more difficult.
Cross jungles, forge rivers and bribe the orcs of the underworld in this returning classic!