A First-timer's Guide to Gen Con
Elizabeth goes to Gen Con!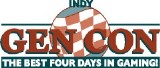 Working at a game store makes it pretty difficult to attend Gen Con, because naturally my fellow Barristers want to attend too. Gen Con actually relocated from Milwaukee to Indianapolis right before I, myself, relocated to Milwaukee, so I really missed the boat. Finally, after all these years, I can report that I was able to attend Gen Con for the first time.
I asked my friends in advance for a list of Dos and Don'ts. Here is a list of what worked and what didn't work on my very first visit to Gen Con.
Plan ahead
Do register for scheduled game events in advance. Tickets for specific game events went on sale on May 18 this year. That's 3 months in advance! By the time I arrived at Gen Con and realized this, all the really cool stuff was sold out. Also, when you get to Gen Con, check the program book for special attractions you want to see, such as the destruction of Cardhalla or live music events.
Gordon agrees: Yes, Do plan ahead. I hadn't been to Gen Con since it left Milwaukee. It is a different animal now. 56,000 people is a lot of people, everywhere. For me, planning ahead meant knowing what clothes to pack, where to get food, and so on. The basics. But this left figuring out what to do at Gen Con to be figured out at Gen Con. That is too late. Events start on a schedule, and if you don't know what game you are going to play or what seminar you are going to attend or what you are going to watch when, then you miss it in the act of trying to figure it all out. So, have a planned schedule. Preregister for events, weeks if not months in advance. I don't know what the right amount of events to register for is, because I did zero, and that was not the right amount. Maybe 2-3 events each day. That seems like a good starting point.
Don't overbook yourself. The flipside to this is that like many entertainment destinations, you won't have time to do everything you want. Leave appropriate time for scheduled game events, the vendor hall, special attractions, participating in contests or challenges, meal breaks, bathroom breaks, and open gaming. But do schedule those games.
Do book a hotel room super-in-advance. Official hotel block registration went live in January and sold out within hours. We were able to book hotel rooms located on one of the shuttle lines in March.
Do write down your schedule, so you don't miss any of your plans. One friend suggested printing an Excel spreadsheet to carry with you. The guys from Noobsource.com used an app called Evernote to keep track of their commitments. I used alarms on my phone to remind me when I was supposed to be somewhere.
Do know what your spending budget is. By the time I accounted for shopping in the vendor hall and purchasing food each day, I felt that I didn't have enough left over to pay for really cool (but pricier) events, such as crafting workshops, the True Dungeon, dance classes, a chair massage, the haunted walking tour, sealed card drafts, etc. It would have helped if I'd purchased those tickets back in May or set aside extra funds for those events.
At the Con
Do buy generic event tickets. You can use them to play open gaming, drop by an event that's not sold out, or drop by an event that's already sold out (and hope that there's a no-show, or that they have room for an extra). A basic game event is usually $2-$6 per person unless it involves taking home extra swag. You can turn in any unused generics at the Customer Service booth to get credit on your Gen Con account for next year, but this involves standing in a long line.
Do take advantage of free events. Attend the many free seminars, try out the First Exposure playtest area, look for ad hoc games to join, and visit different demo rooms to try new games. If you're not sure about whether a game is open/available, just ask someone! Pretty much every stranger you meet is super friendly and welcoming.
Do get in line early for your favorite game publisher in the vendor hall. If there's a new game that's a must-have for you, plan to get it on day 1, because these things will always sell out. Accept that you may not be able to catch everything you wanted. Don't worry. You'll be comrades with the thousands of other fans who will simply wait until September or October for the new game to arrive in retail stores.
Do write down the aisle number for any vendor booth you want to come back and visit later. Unless they have a large banner hanging from the ceiling, you won't be able to find them again. In the vendor hall you can watch short demos of new games, and try them out for free, but sometimes that means coming back when the crowd has gone down a bit.
Do get in line very early if you want to watch the cosplay contest. I showed up in time to catch the beginning of the preshow, and the line was already as long as the corridor. I ended up in a back row seat, and I gave up after about 30 minutes, because I couldn't see anything through the massive fairy wings sitting two rows ahead of me. I wish I had stationed myself to watch the cosplay parade instead. Because the parade precedes the contest, it was not possible for me to watch both.
Do plan in advance for food. There will be times when you've misjudged your schedule and need to use the trail mix or energy bar in your bag to sustain you until later, but you want this to be a backup procedure, not your main tactic. Allot 30 minutes to get food from a vendor inside the convention center (e.g. burgers, hot dogs, pizza, deli sandwiches, nachos, hot pretzels, pulled pork sandwich.) Allot 45-60 minutes to get food from a food truck outside (e.g. loaded fries, rib tips, turkey legs, hot sandwiches, BBQ, pizza, sweets, etc.) If you want late-night eats, we've been told you must call in your order to the nearby Steak 'N Shake, due to overcrowding.
Do hydrate, eat meals, get enough sleep, and practice good hygiene. Carry a water bottle, pack snacks in your bag, and wash your hands before you eat. There are so many people packed into the convention center, and you want to reduce your chances of catching the dreaded Con Crud (a.k.a. Con Plague.)
At the hotel
Do bring your phone charger with you to the Con.
Do carefully select what stuff you will bring to the con. You'll be carrying it for 8-12 (or more) hours. If you want to go hands-free, opt for a backpack instead of a tote bag or luggage. Rolling suitcases will block traffic, and anything you let out of your hands could be trampled, lost, or stolen. A backpack with waist strap is smartest for weight distribution. I used a kid-sized backpack to keep my load at a minimum.
Do get to the shuttle before departure time to catch your shuttle. As many as 20 or more people were left behind at many stops (both to and from the convention center), because the shuttle bus would fill up so quickly. Those people had to wait for an overflow bus to arrive, with an extra wait time between 15-60 minutes. As an alternative, parking a car next door to the convention center was about $14-24 per day, depending on how long we parked. I saw some people walking many blocks for farther-away parking.
A couple of Don't's
Don't cosplay on your first day. You may be bombarded by photo requests, making it very difficult for you to accomplish any shopping, socializing, or sightseeing. Get the lay of the land on your first day.
Don't take photos in the middle of the aisle. Almost everywhere you stop is going to cause a traffic jam. There are a couple of official Gen Con backdrops in the main corridors that are specifically out of the way – you should take photos there if possible. And always ask permission before snapping photos.
Don't try to do everything. You can't participate in every contest, challenge, raffle, or drawing, because there are too many. I spent 3 hours searching for all 13 puzzles in the annual puzzle hunt, and I ended up not having time to solve any of them.
You can attend Gen Con like a Pro!
Gen Con is a huge show, and there is a learning curve for how to be there. The experience that will make for an enjoyable Gen Con for you will be different than for me, but hopefully these Do's (and a few Don't's) from a fellow first-timer will help you attend your first Gen Con like you're a pro who's been there before.
Update! A Second-Timer's Guide with even more recommendations!